Synchrony Financial SYF recently extended its approximate 10-year financing partnership with Phillips 66 in an effort to enhance cardholders' value. The company is offering Phillips 66, Conoco and 76 credit cardholders various ways to earn rewards and more places to utilize their respective cards.
The miscellaneous financial service provider recently enhanced Philips 66, Conoco and 76 consumer and Aviation branded cardholders to include Synchrony Car CareTM in April 2021.
Notably, cardholders can gain traction from better cardholder rewards and improved safety along with promotional financing. They now have the access to make purchases anywhere across the company's wide network of more than one million automotive merchants in the United States.
Consumer Phillip 66 branded credit cardholders will now be able to save on every gallon bought with a Phillips 66, Conoco, 76 and Phillips 66Aviation credit card.
Consumers will save a minimum of 3 cents per gallon through a price decrease on card swipe transactions at branded points. They will save at least 5 cents per gallon on transactions via My Phillips 66, My Conoco and My 76 Mobile App.
The new cards come with an EMV chip, providing better security and access to 500,000 plus ATMs across the nation via the PULSE network.
By strengthening its long-term relationship, the company through its Synchrony Car Care facility will now allow Phillips 66, Conoco and 76 branded credit cardholders to pay for things that are required for a functional car. Customers can now use Synchrony Car Care option for parking, auto insurance, car washes and car rentals other than gas, tires, parts and services, oil changes, etc.
Cardholders will easily qualify for deferred interest promotional financing for the initial six months on transactions of non-fuel products and services of worth $199 or more.
Phillips 66 will be able to benefit from Synchrony Financial's broad array of financing solutions that will help boosting its brand loyalty.
After rebranding CarCareONE as Synchrony Car Care in 2017, the company took initiatives to increase the number of automotive merchant locations across the nation. This leading financial miscellaneous services provider resorts to measures to add benefits, categories and promotional financing choices to the consumer financing plan.
The company has been making concerted efforts in effecting strategic buyouts to boost its business growth. Its series of acquisitions and renewal of alliances enhanced its digital capabilities and diversified its business. Synchrony Financial proved its success in revising several collaborations over the last few quarters as well.
The company further renewed its tie-up with Mattress Firm, Ashley Home furniture, American Eagle, Ashley HomeStore, CITCO, etc. It added 3900 merchants in the first quarter of 2021. It acquired Allegro Credit, a leading provider of point-of-sale consumer financing for audiology products and dental services.
Last month, Synchrony Financial entered into a multi-year extension of its former alliance with CITGO Petroleum Corporation to solidify its commitment to provide better purchasing options to CITGO customers.
All these integrations aim at bringing diversification to this currently Zacks Rank #3 (Hold) company's business lines that in turn will drive its competitive edge.
Notably, one of Synchrony Financial's peers Discover Financial Services DFS also recently partnered a few companies to expand its presence in Bahrain.
Price Performance
Shares of this company have soared a whopping 95.1% in a year's time, outperforming the industry's gain of 0.6%. Moreover, several factors, such as its capital position, restructuring initiatives, a solid Retail Card Platform and CareCredit Platforms will likely help the stock continue with its rally going forward.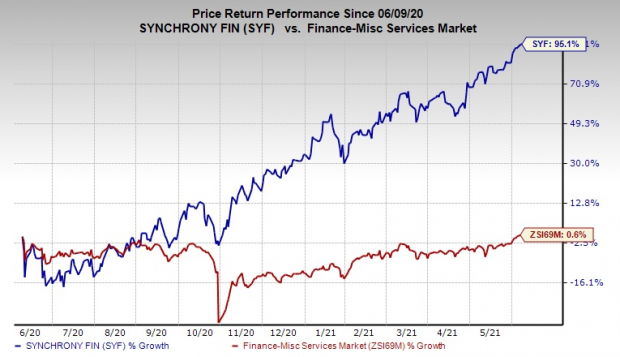 Image Source: Zacks Investment Research
Stocks to Consider
Some better-ranked stocks in the same space are Virtu Financial, Inc. VIRT and XP Inc. XP, all presently holding a Zacks Rank #2 (Buy). You can see the complete list of today's Zacks #1 Rank (Strong Buy) stocks here.
VirtuFinancial and XP Inc. managed to deliver a trailing four-quarter surprise of 257% and 30%, respectively, on average.
More Stock News: This Is Bigger than the iPhone!
It could become the mother of all technological revolutions. Apple sold a mere 1 billion iPhones in 10 years but a new breakthrough is expected to generate more than 77 billion devices by 2025, creating a $1.3 trillion market.
Zacks has just released a Special Report that spotlights this fast-emerging phenomenon and 4 tickers for taking advantage of it. If you don't buy now, you may kick yourself in 2022.
Click here for the 4 trades >>
 
Discover Financial Services (DFS): Free Stock Analysis Report
Synchrony Financial (SYF): Free Stock Analysis Report
Virtu Financial, Inc. (VIRT): Free Stock Analysis Report
XP Inc. (XP): Free Stock Analysis Report
To read this article on Zacks.com click here.
The views and opinions expressed herein are the views and opinions of the author and do not necessarily reflect those of Nasdaq, Inc.