EUGENE, Ore. — An old warehouse in Eugene will be used to build affordable homes for the entire state.
"The purpose of this building is to go ahead and develop a manufacturing facility for single- and double-wide mobile homes," said Terry McDonald, Executive Director of St. Vincent de Paul.
McDonald said it will be used to build two different sized homes– one that is 770 square feet, and one that is 1,540 square feet.
"It will be used to help low-income people and fire victims throughout the state recover their independence in housing," said McDonald. "The goal is to have them energy efficient, to have them fire resistant and to be built to very high standards at an affordable price so that we can continue this process of rebuilding our state."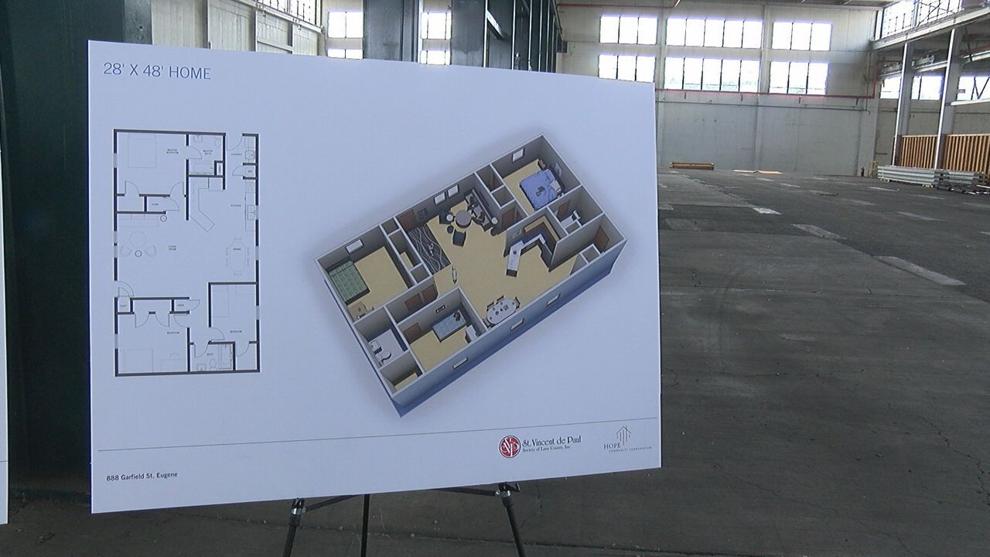 The facility was purchased by St. Vincent de Paul back in May. McDonald said the prices of the homes are expected to be 50% of the market value. However, before construction can begin, they first need to upgrade the building itself. That's where Larry Banks and staff from Pivot Architecture come into play.
"We will be cutting holes in walls, we'll be adding steels, we need to create workspace and break areas, restrooms for 120 plus employees. Help layout where all the different utilities need to be for the equipment that is coming, and then a lot of site planning as well," Banks said.
McDonald said the plan is to complete remodeling of the building by April 2023, with the hope of starting production a few months later on July 1.
While production will be done in Eugene, the homes will be available for anyone in the state of Oregon, something State Senator James Manning said could benefit more than just Oregon.
"This is a big deal because it's not only the future of how we are going to deal with the homelessness issue, but it can serve as a model for the rest of Oregon and around the nation," Manning said.
https://www.kezi.com/news/manufacturing-center-for-affordable-housing-to-be-built-in-eugene/article_cebfaacc-0a1f-11ed-81b2-cf6b738166ed.html