Sign up for the New Economy Daily newsletter, follow us @economics and subscribe to our podcast.
Nigeria's central bank will likely keep its key interest rate unchanged on Tuesday after data showed the economy's recovery remains weak.
Gross domestic product in the continent's biggest oil producer expanded 0.5% in the three months through March from a year earlier, the statistics office said Sunday. While that was an improvement on the fourth quarter's 0.11% increase, it undershot the median in a Bloomberg survey.
The slow pickup could reinforce central bank Governor Godwin Emefiele's view that it's still too early to increase the the benchmark rate from 11.5% despite inflation that's near a four-year high. The monetary policy committee cut it by 200 basis points in 2020 to prop up Africa's largest economy against the impact of coronavirus lockdowns and a plunge in oil prices.
However, GDP still contracted 1.92% for the full year, which is the most since at least 1991 according to International Monetary Fund data. Emefiele has said the MPC can only shift to fighting inflation once the economy's recovery from the recession gains some traction.
Read more: Nigeria Central Bank Seeks Stronger Recovery Before Tackling CPI
What Bloomberg Economics Says

"We still expect a modest rebound this year, with GDP on track to recover by more than 2%. Inflation is also expected to remain above target. However, we don't expect the Central Bank of Nigeria to hike rates until later in the year, when it is confident in the strength of the recovery."

–Boingotlo Gasealahwe, Africa economist

–Click here for the full REACT
"The recovery remains somewhat fragile at this point," said Abdulazeez Kuranga, an economist at Cordros Capital Ltd., a financial-services group in Lagos. "The central bank will likely allow policy measures to continue to permeate through the economy. It will most likely stay put."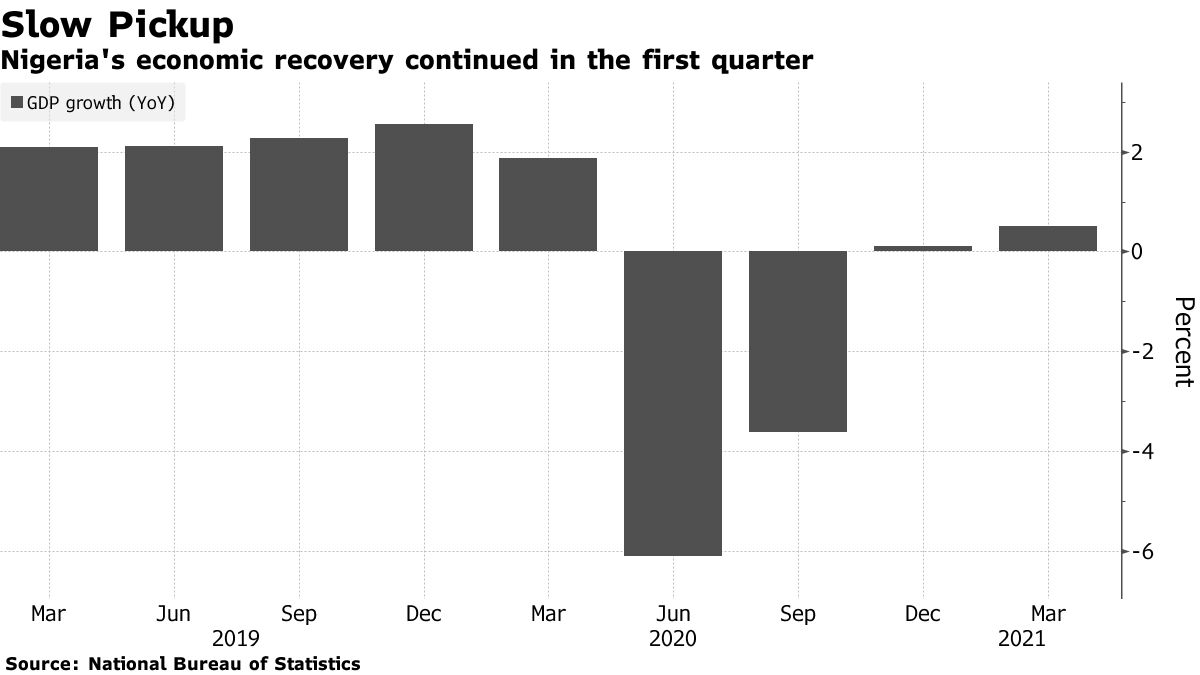 The MPC starts a two-day meeting on Monday and Emefiele will announce the outcome of the deliberations on Tuesday. Of the six economists surveyed by Bloomberg, four said it will be an unchanged stance, one expected a 50 basis-point increase and one projected 100 basis points of tightening.
Oil Recovery
Crude output rose to 1.72 million barrels per day in the first quarter from 1.56 million in the last quarter of 2020, according to Sunday's release. But production is still below what it was before the coronavirus-linked lockdowns decimated demand and prices fell. Oil GDP contracted by 2.2%, compared with a drop of 19.8% in the previous three months.
While oil contributes less than 10% of the country's GDP, it's a key driver of growth and provides most of the hard currency needed to power other industries and finance the government. Lagos-based FBNQuest Capital calculates the indirect oil economy makes up at least 40% of GDP.
The non-oil economy expanded by 0.8% from a year earlier, driven by manufacturing that grew 3.4%, the sector's first increase in a year. Telecommunications expanded by 7.7%.
Easing pandemic restrictions worldwide and higher oil prices should speed up the recovery in the second quarter, according to Goldman Sachs Group Inc. economists Andrew Matheny and Maria Ludovica Ambrosino.
— With assistance by Simbarashe Gumbo